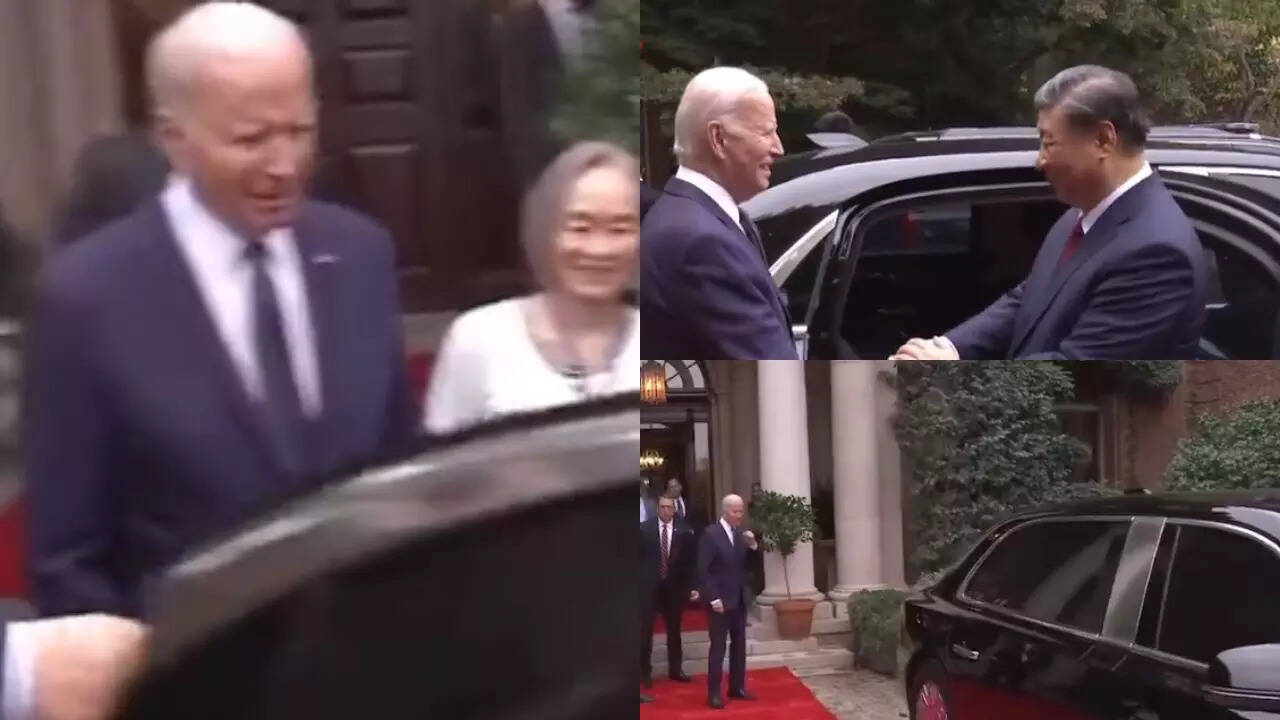 In a bid to nurse the broken relationship between the
United States
and China, presidents of the two countries,
Joe Biden
and
Xi Jinping
, had a first in person meeting in over a year in the US on Thursday. Amid discussion on the conclusions of their long meeting revolving around several themes, a video has surfaced on social media showing the two renowned leaders talking about their respective state cars.
In what we see as a unique car faceoff, Chinese Jinping introduces the POTUS to his state-vehicle, the Hongqi N701 Limo. Jinping goes on to call the car 'a Red Flag' in Chinese as per reports. Meanwhile, Biden, after having a brief look at the vehicle, calls it a 'beautiful car'. However, that wasn't that. It was now time for the US president to boast his own state car which he uses to travel around even in foreign lands. "Mine is called a Beast",
Biden
says talking about his General Motors produced
Cadillac
.
US-China meet: 'He's a dictator in the sense…', Biden reaffirms Xi Jinping as an autocrat
Codenamed the 'N701', this black-coloured, armoured limousine has been brought all the way to the US for the 70-year-old's visit. Although most of the details about the cars used by global leaders are usually kept from the public domain, reports suggest that the vehicle is 18 feet long and shares the same platform as the Hongqi L5. Additionally, keeping optimum security in mind, it gets bulletproof glass, tyres, and boasts of extensive armour plating around the exterior.
President Xi Jinping of China, showing President Biden his Chinese made car. Biden also talked about his American car, The Beast.

It would be great to see our leaders use our locally made cars more and advertise it.Nigerian ambassadors abroad should be using Nigerian made cars! pic.twitter.com/LIw0IeH9RO

— Toyyib Adewale Adelodun (@taadelodun) November 16, 2023
On the other hand, Biden's 'Beast', which also plied on the Indian roads during the 80-year-old's recent visit to the national capital for the G20 Summit, is another example of sheer security on wheels. The 18-feet-long sedan costs $15.8 million (approx Rs 131 crore). Safety features include night-vision devices, smoke-screens, ability to run on punctured tyres, mine protection, and interestingly, the bullet proof exteriors include doors that are said to be as heavy as that of a Boeing 757.
Watch Biden, Xi Meet for the first time in a year amid tensions and wars; What's on the agenda?