PUNE: A cardiothoracic surgeon's race against time and traffic to harvest a brain-dead man's lungs in Maharashtra's Pimpri-Chinchwad and reach Chennai to save a patient's life was disrupted by a major road accident that left him and an associate injured, but couldn't prevent them from answering the call of duty.
Dr Sanjeev Jadhav of Navi Mumbai's Apollo Hospitals successfully carried out the scheduled lung transplant on a patient from Kerala early Tuesday, hours after the ambulance carrying him and his team along with the harvested organ hit two vehicles and crashed into a wall of the Harris Bridge en route to Lohegaon airport.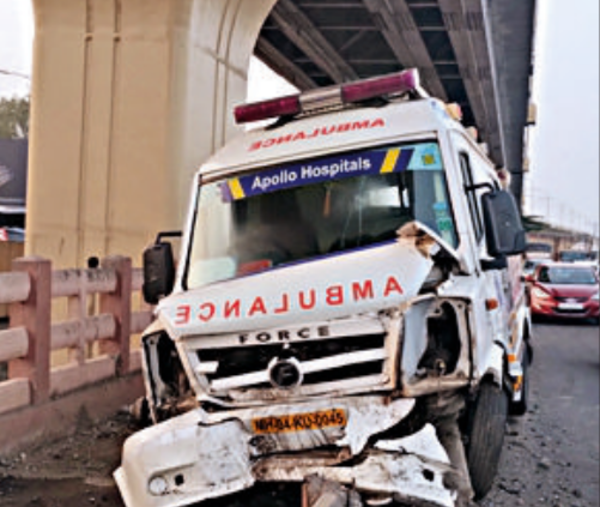 The ambulance crashed into a bridge wall after hitting a pickup van and a state transport bus.
Dr Jadhav and another doctor shifted with most the of the team, many of them with injuries, to a backup vehicle that had been trailing the ambulance and reached the airport to board a charter plane to Chennai.
The surgeon carried out the lung transplant on the patient who was on life support at the Chennai hospital.
"The organ recipient had been on extracorporeal membrane oxygenation, which is the highest degree of life support, for 72 days. Had the transplant not happened on Monday, he would have died. The patient doing well now," Jadhav told TOI.
Recounting the three-vehicle crash, the surgeon said he was seated next to the ambulance driver and suffered injuries to a leg, hand and his head. "But we decided to put the accident behind us and proceed. The patient was already on the operating table. We had 6-8 hours at the most to use the harvested organ."
The ambulance had left for the airport around 5pm. After the accident, some members of the medical team stayed back to take the injured driver to hospital.
The charter flight landed at Chennai on time and the lungs reached Apollo Hospital around 8.30pm. The transplant was completed around 1.30am on Tuesday.